Columnist and Book Reviewer
Liz O'Donnell is an opinion columnist in the Irish Independent daily newspaper which enjoys the biggest readership in Ireland. She writes mainly on politics and public affairs.
Consultant & Lecturer
Liz O'Donnell provides Consultancy, Lecturing and Advisory services for corporate, educational and various other organisations in the field of government relations and public affairs.
Public
Figure
Liz O'Donnell engages in a wide variety of charitable works and fundraising as a public figure as being a consistent champion for human rights, development & the rights of minorities
Former
Politician
Liz O'Donnell was first elected to the Dáil in 1992 and served as Progressive Democrats TD for Dublin South from 1992 to 2007. She retired from politics following the 2007 General Election.
---
RSA 
Chairperson
Liz O'Donnell has been appointed as chairperson of the Road Safety Authority by the Government.
---
New Road Safety Guidelines Launched for Drivers and Horse-Riders
Road Safety Authority (RSA), Horse Sport Ireland (HSI) and An Garda Síochána have launched a set of guidelines for drivers and horse-riders on how to share the roads safely. The booklet was launched on Simmonscourt Road near the RDS by Minister for Transport Paschal Donohoe TD who was ably assisted by Melanie Young, a member of the Team Ireland Equestrian u25 eventing squad and members of the Garda Mounted Unit.
---
LIZ O'DONNELL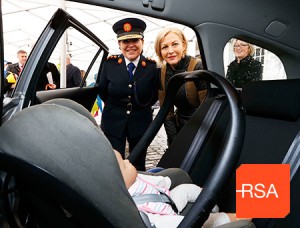 LIZ CURRENTLY WORKS ON A DIVERSE PORTFOLIO OF ACTIVITIES WHICH INCLUDES BROADCASTING, JOURNALISM, PUBLIC AFFAIRS CONSULTANCY AND LECTURING. SHE REMAINS COMMITTED TO DIVERSITY IN POLITICS AND BUSINESS AND IS AN ADVOCATE ON GENDER EQUITY AND WOMEN'S PARTICIPATION IN PUBLIC LIFE AND POLITICS.
---
Liz O'Donnell - Latest Events
READ MORE BLOG
Liz recently took part as a panellist in a conference on gender diversity in the construction industry. In the
Read Liz O'Donnell's column in the Irish Independent
We must embrace desperate people as Europe fails those fleeing war
When it comes to the horror of war as revealed to us on a daily basis from Syria, have we reached a stage of mute helplessness? As retiring UN secretary general Ban Ki-moon said this week in his farewell speech to the UN General Assembly meeting in New York: "Just when you think it cannot get any worse, the bar of depravity sinks lower."
---
If we don't halt the rising carnage on our roads now, we will lose all the gains made in 10 years
It seems not a day passes without a fatal crash featuring on our news headlines. Already this year, 130 people have died violently on our roads; 18 more than for the same period last year. Read More…
---
Politicians' reactions to Europe's ruling on Apple show who is fit to govern State – and who is not
Politicians' reactions to Europe's ruling on Apple show who is fit to governLike it or not, the European Commission's ruling on Apple's Tax affairs and Ireland has been a defining political event in several ways. It has propelled Ireland's tax law on to the international stage in spectacular fashion by the charge of our State's complicity in tax evasion on a massive scale and prompted a review of our relationship with the European Union. It would be difficult to imagine a more damaging claim against Ireland's reputation. That is why the Government had no choice but to appeal the ruling to the European Courts.e – and who is not. Read More