Columnist and Book Reviewer
Liz O'Donnell is an opinion columnist in the Irish Independent daily newspaper which enjoys the biggest readership in Ireland. She writes mainly on politics and public affairs.
Consultant & Lecturer
Liz O'Donnell provides Consultancy, Lecturing and Advisory services for corporate, educational and various other organisations in the field of government relations and public affairs.
Public
Figure
Liz O'Donnell engages in a wide variety of charitable works and fundraising as a public figure as being a consistent champion for human rights, development & the rights of minorities
Former
Politician
Liz O'Donnell was first elected to the Dáil in 1992 and served as Progressive Democrats TD for Dublin South from 1992 to 2007. She retired from politics following the 2007 General Election.
---
RSA 
Chairperson
Liz O'Donnell has been appointed as chairperson of the Road Safety Authority by the Government.
---
New Road Safety Guidelines Launched for Drivers and Horse-Riders
Road Safety Authority (RSA), Horse Sport Ireland (HSI) and An Garda Síochána have launched a set of guidelines for drivers and horse-riders on how to share the roads safely. The booklet was launched on Simmonscourt Road near the RDS by Minister for Transport Paschal Donohoe TD who was ably assisted by Melanie Young, a member of the Team Ireland Equestrian u25 eventing squad and members of the Garda Mounted Unit.
---
LIZ O'DONNELL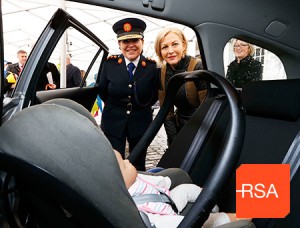 LIZ CURRENTLY WORKS ON A DIVERSE PORTFOLIO OF ACTIVITIES WHICH INCLUDES BROADCASTING, JOURNALISM, PUBLIC AFFAIRS CONSULTANCY AND LECTURING. SHE REMAINS COMMITTED TO DIVERSITY IN POLITICS AND BUSINESS AND IS AN ADVOCATE ON GENDER EQUITY AND WOMEN'S PARTICIPATION IN PUBLIC LIFE AND POLITICS.
---
Liz O'Donnell - Latest Events
READ MORE BLOG
17 November 2016 23,949 people killed on Irish roads since 1959 This Sunday, the victims of road collisions across
Read Liz O'Donnell's column in the Irish Independent
Ireland may seem immune but Trump's victory and Brexit vote could help turn more hearts into stone
Super moons, tsunamis, earthquakes, the warmest year ever on the planet, the election of a white nationalist as president of the United States – what's next? One longs for the passing of this year. The world seems in turmoil. What Donald Trump campaigned on is a week later diluted but not denied. A fence instead of the promised "wall". Only the worst of the criminals who are undocumented to be deported instead of the threatened 11 million. Words have lost all meaning..
---
It will be a tall order to heal wounds and unify the nation after such a debased election campaign
When the first votes came in, I was glued to CNN, having followed the heady coverage all day. Whatever the outcome, it would be historic; the first woman president of the United States or victory to the ultimate outsider. It would be a close contest, but most people felt Mrs Clinton would shade it. Yet as those early results came in from Kentucky and Indiana marked red on the map of the United States, my heart sank.. Read More…
---