In one of the most colourful road safety events of the year, the Road Safety Authority (RSA) today rewarded schoolchildren from ten primary schools for their efforts in making the roads safer across Ireland.
Over 200 schoolchildren from primary schools in Limerick, Dublin, Clare, Galway, Cork, Carlow and Mayo attended the ceremony at Dublin Castle to receive their awards. First class students from Askeaton Junior School, Co Limerick took first prize in the 'Seatbelt Sheriff' competition for their poster, 'Put me on then drive along' while students from Second Class in Scoil Ghráinne, Phibblestown, Clonee, Dublin took first prize in the 'Hi-Glo Silver' competition for their poster, 'We're Keen to be Seen'.
The awards were presented by Ms Liz O'Donnell, Chairperson, RSA and Chief Superintendent Aidan Reid, An Garda Síochána.
Ms O'Donnell commended the award winners, saying: "I want to congratulate all of the award winners for their excellent and imaginative art projects that demonstrate their dedication to road safety. I would also like to commend teachers throughout the country for the great work they do to educate our youngest road-users about road safety."
"Today is an important day for us as this particular event recognises the commitment and creativity of young people to making our roads safer for everyone. For the RSA and for all those who work in road safety, it is so encouraging to see so many young people representing the future of road users in Ireland and setting an example to all of us who use the roads."
The competition, which is now in its twelfth year, encourages children to get involved in saving lives on the road by educating them on the importance of buckling up and wearing high visibility clothing. Speaking about the importance of developing road safety skills at a young age, Ms Moyagh Murdock, Chief Executive, RSA commented:
"Educational programmes such as 'Seatbelt Sheriff' and 'Hi-Glo Silver' give school children the opportunity to learn valuable road safety skills in a fun and creative way. They teach children skills that will help keep them safe when on the roads and also empowers them to pass these skills on to others. It is my hope that the lessons learned through 'Seatbelt Sheriff' and 'Hi Glo Silver' will stay with these children throughout their teens and into adulthood, keeping themselves, their peers and their loved ones safe on our roads for years to come."
Chief Superintendent Aidan Reid, An Garda Síochána said: "On behalf of An Garda Síochána, it is great to be here today to celebrate the fantastic efforts being made by schools across Ireland to encourage children to be safe and smart road users. We are committed to supporting any initiative that helps our youngest and most vulnerable road-users to learn vital road safety skills. I want to extend my congratulations to all of the students here today on their fantastic work, and urge parents and teachers around the country to build on the work being done in schools and at home by demonstrating safe and responsible road use at all times."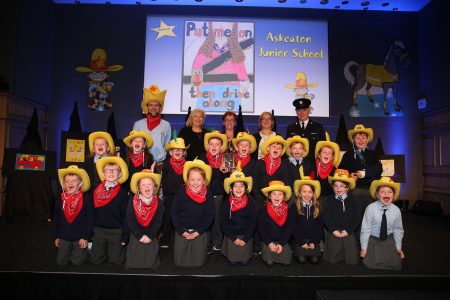 Hundreds of entries were received for the 'Seatbelt Sheriff' and 'Hi-Glo Silver' competitions. In the 'Seatbelt Sheriff' competition, the runners up were: 1stClass, Borris Mixed National School, Carlow; 1st Class, ScoilMocheallóg, Killmallock, Limerick; 1st Class, St Joseph's Primary School, Macroom, Cork and 1st Class, Convent of Mercy National School, MuireganSmál, Claremorris, Mayo.
In the 'Hi-Glo Silver' competition, the runners up were: 2nd Class Askeaton Junior National School, Limerick; 2nd Class, Clooney National School, Carrahan, Tulla, Co Clare; 2nd Class, ScoilPádraigNaofa, Cregmore, Claregalway, Galway and 2nd Class, GaelscoilMhainistirnaCorann, Cork.
'Seatbelt Sheriff' and 'Hi-Glo Silver' are fun, educational road safety programmes for children in first and second class in primary school. Children in first class become 'Seatbelt Sheriffs' by taking a pledge to wear their seatbelts and making sure that everyone else in the car is buckled up too. Once they become 'Seatbelt Sheriffs', they can flash their sheriff's badge so that everyone they're travelling with knows that they must wear their seatbelts.
After becoming honorary 'Seatbelt Sheriffs' in first class, 'Hi-Glo Silver' encourages second class students to wear bright clothing when they are out walking or cycling. They will pledge to wear jackets, armbands or belts and remind their parents, family and friends to do the same. Just like becoming a 'Seatbelt Sheriff', pupils will receive a certificate that gives them the power to instruct everyone when they walk or cycle to wear safety gear.
Further information on the Road Safety Authority's 'Seatbelt Sheriff' and 'Hi-Glo Silver' educational programmes is available at www.seatbeltsheriff.ie.
For further information, please contact:
RSA Communications Office, Ballina: 096 25008