Superintendent Con O'Donohue, from An Garda Siochana Traffic Bureau (left) with Liz O'Donnell, Chairperson of the Road Safety Authority, Professor Oliver Carsten, from the Institute for Transport Studies, University of Leeds, Moyagh Murdock, Chief Executive of the Road Safety Authority and Professor Anders Lie, from the swedish Transport Administration (right), pictured in Dublin Castle at the Road Safety Authority International Road Safety Conference which highlighted the "Intelligent Speed Assistance" (ISA). The Intelligent speed assistance is an advanced systems that assist the driver in choosing the correct speed, aimed at compliance with the speed limits.
Pic Robbie Reynolds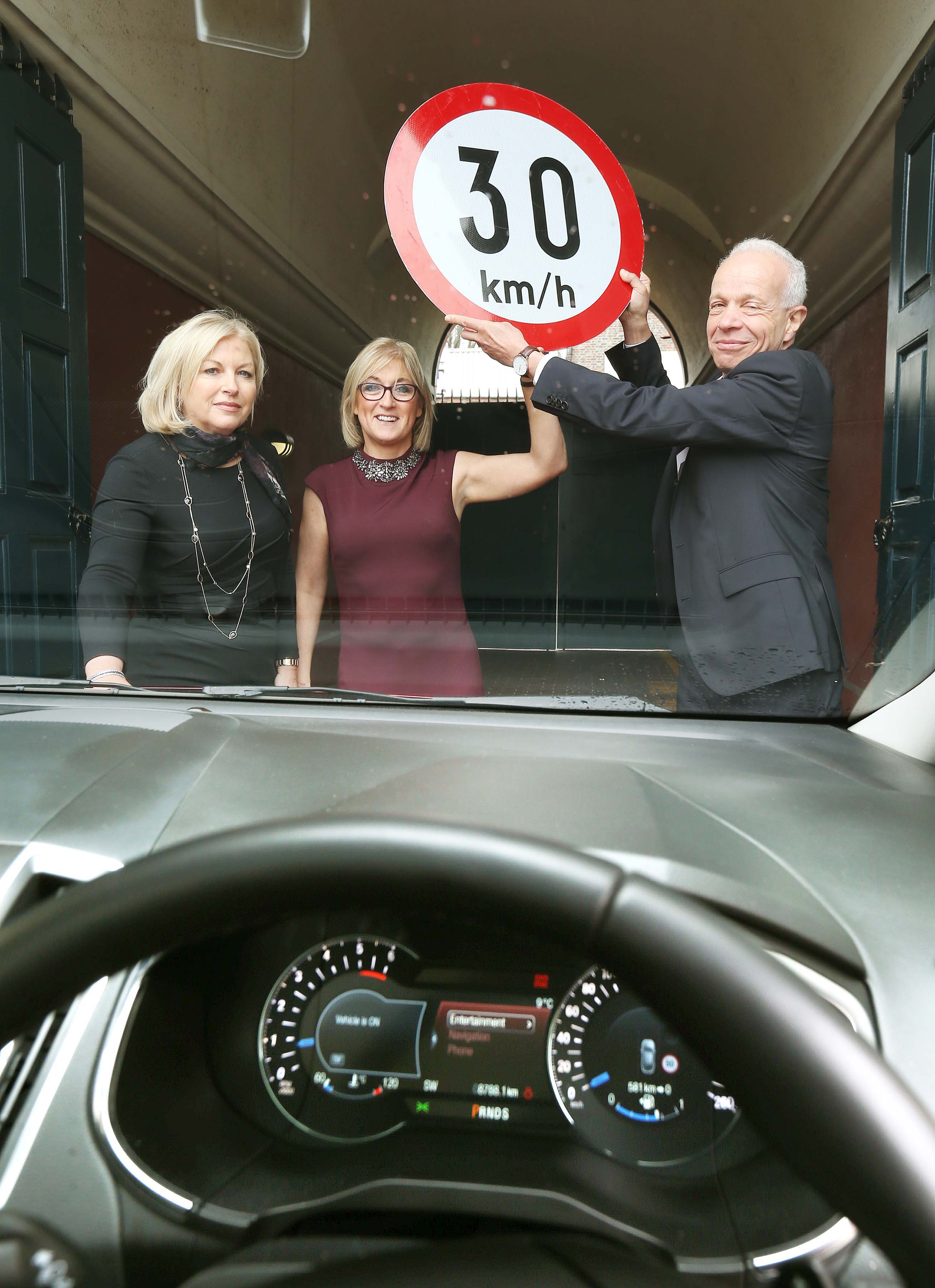 Report reveals excessive speed a factor in 1 in 3 fatal collisions between 2008 and 2012
Road safety conference jointly hosted with European Transport Safety Council focused on use of technology to manage speed
A new report from the Road Safety Authority (RSA), has revealed that between 2008 and 2012, 322 people died in collisions where excessive speed was a contributory factor. The report, the second in a series of landmark reports analysed An Garda Síochána Forensic Collision Investigation reports in order to identify the main contributory factors in collisions on Irish roads. It was launched today at the RSA's Annual International Road Safety Conference, which was jointly hosted with the European Transport Safety Council (ETSC). The theme of the conference focused on the use of technology to manage speed.
983 fatal collisions occurred on Irish roads between 2008 and 2012, claiming the lives of 1,077 people. The forensic details of 867 fatal collisions were analysed to identify the cause of the collision – of these, excessive speed for the road and conditions was a main contributory factor in 1 in 3 (274), fatal collisions claiming the lives of 322 people. A further 74 people were seriously injured.
The report also revealed that:
Of the 322 people killed in speed-related collisions, 158 were drivers, 49 were motorcyclists and 100 were passengers
109 of the drivers were killed in single vehicle collisions
Weekends were a high risk period for speed-related collisions
The counties where speed featured most as a contributory factor in collisions were Donegal (8.4%), Cork (8%), Wexford (8%) Cavan (7%) and Galway (7%)
91% of culpable drivers were male
Over half of the drivers, both male and female, were aged between 16 and 24
84% of drivers involved in a single vehicle collision were under 34 years of age
One third had no record of insurance at the time of the collision
29 vehicles ranged from being defective to poor/fair; 11 were dangerously defective
Speaking at the conference on the 28th April, Liz O'Donnell, RSA Chairperson said:
Previous research based on preliminary Garda crash scene reports estimated that excessive speed was a factor in 15% of fatal collisions. The report published today, using data from An Garda Síochána Forensic Investigation Files, shows that excessive speed plays a more significant role in collisions on our roads, accounting for 1 in 3 fatal collisions analysed between 2008 and 2012. The faster you drive, the more likely you are to kill or seriously injure yourself or someone else if you are involved in a collision. Slow down – drive at a speed that is appropriate to the conditions and your experience, and remember a speed limit is not a target.
According to the ETSC, 500 people are killed on EU roads every week; speed is the primary factor in 1 in 3 fatal collisions. Today's conference, which was held as part of the European Transport Safety Council (ETSC)iSAFER campaign, looked at the use of Intelligent Speed Assistance (ISA) as a measure to reduce speed on our roads. ISA uses a speed sign-recognition video camera and/or GPS-linked speed limit data to advise drivers of the current speed limit; the most advanced systems can automatically limit the speed of the vehicle as needed (though the driver is still able to override the system).
Speaking at the conference today, Professor Oliver Carsten, Institute for Transport Studies, University of Leeds provided an insight into the effectiveness of ISA in reducing deaths and serious injuries, calling it 'the most powerful road safety intervention currently available'.
"ISA has the potential to reduce collisions by 30% and reduce deaths by 20%. In a number of trials, ISA had a significant impact on driver speed choice, acceptance and intention to speed.Analysis shows that the stronger the form of ISA, the greater the impact it has on crash risk and crash severity, helping to reduce not only the number of collisions on our roads as a result of excessive speed, but also the severity,"said Professor Carsten.
In a study conducted by SARTRE in 2012, 78% of road-users and 64% of drivers supported in-vehicle speed limiters. In addition to the impact to road safety, it also reduces fuel consumption and CO2 emissions by up to 8%. The RSA has joined the ETSC in calling for the EU to require car manufacturers to fit ISA in all new cars. The European Commission is expected to set out a revised set of safety standards for new vehicles this year as part of its revision of the 2009 General Safety Regulation. A 2015 study for the Commission by TRL gave ISA a 'green light' signifying that the technology was already available and effective, with a high benefit-cost ratio.
Commenting on ISA technology Ms. Moyagh Murdock, CEO, RSA said, "A key priority of the Government Road Safety Strategy is to look at new and emerging road safety technologies and to assess how they could be implemented in Ireland. We would urge the EU to make ISA technology a standard safety feature in new vehicles. In a recent review by commissioned by the EU it found that ISA was the number one technology advancement that would be the most cost effective and most beneficial for road safety."
Among the other speakers at today's conference, which was chaired by Conor Faughnan, Director of Consumer Affairs at AA Ireland, was Mr Niall Carty, Head of Road Safety Advocacy at the International Automobile Federation (FIA) who provided an insight into how ISA is being used in world motorsport, including Formula 1.
Ahead of the May Bank Holiday weekend, the RSA and An Garda Síochána are appealing to road-users to slow down and not take any chances on the roads.
Chief Superintendent Aidan Reid, An Garda Síochána said, "Excessive or inappropriate speed is the biggest killer on our roads. If you are driving too fast, your ability to react properly or safely to hazards is severely compromised. And if you are involved in a collision, the outcome could be tragic. There were 40,787 speeding detections in the first three months of this year. Speeding is not only illegal, it is dangerous and selfish. So please, think about the consequences of speeding the next time you get behind the wheel and reduce your speed accordingly."
The RSA and Applegreen have teamed up to provide free cups of coffee to drivers in an effort to combat driver fatigue. Between 2pm and 8pm on Friday 29 and Monday 2 May, drivers can get a free cup of coffee at any Applegreen service station around the country by mentioning 'RSA' or the 'Driver Reviver' campaign to the till operator.
For further information:
RSA Press Office: 096 25008
Brian Farrell, RSA Communications Manager: 096 25008
Garda Press Office Tel: 01 6662071